Description
The CR5 is suitable for the C and D Maglites, the CR8 can only be used in the D model Maglites.
With these LED's it is highly recommended to replace your plastic lens for a glass version. You can find the glass lens here.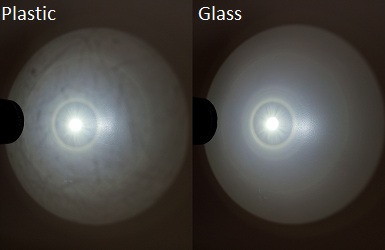 PROPERTIES:
500-800 lumens light output from the Cree XM-L2 U3 LED
This upgrade replaces both the original bulb as the reflector.
The LED's give a bright white light.
Mirror smooth reflector with fixed focus for a range of about 300 meters.
The module is made from high quality aluminium for optimal heat conduction and robustness.
1-mode
| | | | | |
| --- | --- | --- | --- | --- |
| 3D krypton | Lumens | Bright | Weaker | Total (hours) |
| Origineel | 74 | 7 | 4 | 11 |
| CR5 (100%) | 500 | | | |
| CR8 (100%) | 800 | | | |
Maglite shows on their website the runtime and brightness of their standard flashlights. In order to compare the LEDs with respect to the original lamps, a number of measurements were done. Here the 3D maglite is equipped with a new Philips Powerlife Alkaline batteries. To get a more realistic measurement the lights were turned on and off every 15 minutes. The hours above were measured with a timer and were rounded to the nearest half hour. The transition of bright to noticeable weaker is objective, each person may therefore experience this differently. Please note that each measurement depends on the status, age and capacity of the batteries. The data is mainly intended to give a indication and to make the comparison with the original bulbs easier.